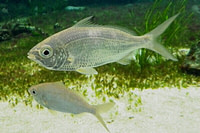 The Rainbow Bass
The Rainbow Bass fish (Parachromis dovii ) is a fish usually found in deep waters but emerges in the surface to feed and sleep.  The female is a yellow color while the male is a blueish and back color and is able to grow to considerable sizes. They have a bump on their front and we have caught some weighing up to 4.6 kilos (10 pounds).
The Rainbow Bass fish is a carnivorous, highly predatory fish. Their diet consists mainly of small fish and macroinvertebrates. They prefer turbid, eutrophic lakes, often found in warm water depleted of oxygen. Their native substrate is one of the mud-bottoms, but can also be found in other ponds and springs with sandy bottoms covered in plant debris.
Rainbow Bass is most active during the first rains of the season and during the end of summer when the waters are murky. They prefer deeper areas with rocks to hide in and are also found in rivers and lagoons.
In the archipelago of the Nicaragua Lake of Solentiname, they call them "Laguneros" and the population grows around the islands.
The equipment used for Rainbow Bass is similar to the one used to catch Black Bass: short rods, quick and with light spools, and small bait that simulate small fish or shrimp (Crankbaits or Spinnerbaits). One can also use poppers or flies.
We recommend throwing between the branches or as close to the shore as possible and wait for them to come out of their hiding spots. They will attack with aggression because they are extremely territorial.
Their aggressiveness and strength remind one of the Pavon fish or the Tucunare  (Peacock Bass). They call them peacock because of the colors they have when they reflect the light.
Not far from our Lodge, you can find areas of calm water, and with a lot of vegetation and submerged rocks. These areas, either in lagoons or channels, are perfect areas for the Rainbow Bass. It is a very technical way of fishing and a very entertaining one.
Rainbow Bass Habitat
Rainbow Bass live in rivers and lagoons of the jungle. They are ambush predators and hide beneath trees and other covers. They dart out to feed on smaller fish, like mojarra, insects, frogs, river shrimps that are found in the weeds. They are aggressive carnivores that when hooked they can´t take off like hounds, are strong enough to snap lines that have a weakly tied knot, and have a territorial.
As the Peacock Bass or Pavón, it is not really from the "Bass" family. They get their name because of their beautiful colors, hence the name of Guapote. In English due to the rainbow hue, they are called "Rainbow" bass. Adult males show a bluish, green, and red color on their heads, before showing a body dotted with purple dots and blue, black and dark bars. Adults have a bulge on the forehead that is striking.
Rainbow bass sense the change in wind and sky conditions, they know instinctively that this is the start of poor weather, and they start to feed. That's why a few of the best fishing takes place when a cold front is coming.
The conditions of the surface of the water affect. The heavy rains diminish the bites, but the soft rains work as activators helping in the fishing of the guapote. The darkened skies that precede a storm bring mist that tends to precipitate the guapote to feed, the light drizzle breaks the surface, which makes our baits more efficient, and the drizzle adds oxygen to the water. When the rain becomes stronger the Guapotes distinguish their prey worse, so they stop and suspend their feeding. The Guapotes are very sensitive to differences in water level after heavy rains, preferring the dry season for Rainbow Bass fishing.
Rainbow Bass Fishing Tips
Spinnerbaits in white or chartreuse are easy to fish because all you've got to do is throw it out and reel it in. However, altering the retrieve (slow or fast, continuous or jerky) and paying constant attention to the bait will always bring more fish.
Throw the artificial lure in the thickest cover you can find. Raise and lower the tip of the rod, letting the bait bounce off the structure as it goes, and place it on the base intermittently. It launches over structures when temperatures are high, and to a less deep cover during the less hot months. Keep one finger in contact with the line to feel the sting.
Use a jerk-and-pause retrieve past rocks and trees. Fish tend to hit this lure on the pause so be ready and pay attention to the line at all times. Many of the artificial lures used with spinning gear are not weedless so be careful just how close you get to the structure.
The bites are surprising, generally related to the speed of recovery. An abrupt stop and an exciting fight. El Guapote will do everything possible to escape.
It's a great experience, and not only you´ll have fun, but all serious anglers will also learn a lot. It is a fly fishers dream but most of them never experience. Lastly, make sure you bring the right flies for other fish too. The Rainbow bass fishing ( Guapote Fishing ) is particularly impressive; they are everywhere.
*There are so many different kinds of fish in the jungle rivers like giant snooks or Jack crevalle of which we will speak on another occasion.
Rainbow Bass Fishing Tackle
Both the Baitcasting and the spinning equipment work very well, and the flies also work. It is not very known how to fish because its location is very small, we have guapote and we love the fishing of the guapote. I personally fish them with a 30 lb. braid and a 20 lb. fluorocarbon leader. As for the flies I like to use small poppers or imitations of larva or very little fish.
A 5'6″ baitcast rod and reel w/10-12 pound test line – Lures: a 1/2 ounce white/chartreuse spinnerbait – topwater baits.
A 6′ 6″ or 7′ medium-heavy baitcast rod & reel w/15-20 pound test line – Lures: 3/4 ounce black & blue flippin'jig – Texas-rigged plastic worm or lizard in black or purple.
A 6′ medium action spinning rod and reel w/8-10 pound test line – Lures: Bomber Rapalas – topwater baits – finess plastic worms (4-6″) – 1/8 to 1/2 ounce lead jigs with auger-tail plastic grubs.
A 5'6″ spinning rod and reel w/4-8 pound test line – Lures: 1/16 to 1/4 ounce bucktail jigs or plastic grubs – light stick-baits (Rapalas, Rebels) – small crankbaits – ultra-light topwater lures.
Tiger Bass
Tiger Bass (Parachromis managuensis ) , the False yellowjacket cichlid, Tiger Bass is a species of cichlid native to Guatemala and Honduras in Central America. This fish is unlike the Guapote due to its size and color. The female of this species is even more brilliantly colored, with deep shades of red and oranges much more prominent than the males color
Generally, we find them near lagoons where they live or off the shores hidden among sticks and fallen branches. Even though they are nocturnal animals, they can also be found at dawn.
They weigh two kilos and measure up to 50 centimeters and are spotted and of a yellowish color.
KNOW MORE ABOUT THE RAINBOW BASS TACTICS
[bucket id="2914" title="Formularios paginas"]